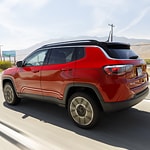 The newest Jeep Compass exterior is something to marvel at. It has a striking touch to it that people notice and pay attention to. The 19-inch gloss black aluminum wheels are definitely an attention-grabbing feature so to speak. They make a splash that is hard to ignore no matter who you are.
There are plenty of different wheel designs for this particular vehicle. This means that you can customize them to be just the way you want them. Different packages appeal to different people, but all of the wheels are ready for the road, and that is critical as it means that no matter which options you go with, you are going to be safer than ever before.
Check out the newest Jeep Compass if you have an adventurer's spirit and want to take those trips in style. You won't find a better vehicle to do that in, and you will certainly appreciate the quality of the ride as you go along.