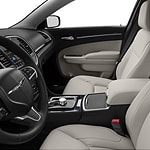 The Chrysler 300 is known for having one of the most comfortable rides in its class. However, the 300 is also engineered to be one of the safest on the road. Here's a look at some of the top safety innovations found on the current model 300.
You don't want to get into a fender bender, or worse, with the vehicle in front of you. That's where the Full Speed Forward Collision Warning system comes in. If you are approaching another vehicle too quickly, the system will give you an audio and visual alert. If you are unable to respond in time, the system will automatically brake for you.
The 300 also offers the LaneSense, Lane Departure with Lane Keep Assist System. With this active safety system, the vehicle will alert you if you are drifting out of your lane. If needed, the system will guide you back into your lane. These are just the many ways the Chrysler 300 keeps you and your passengers safe on the road.