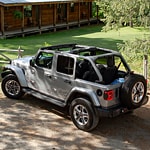 Did you know that 2020 Jeep Wrangler is one of the most enjoyable cars to cruise? There are so many reasons to justify the above statement. 2020 Jeep Wrangler Unlimited. Jeeps need to adhere to various emission regulations and crash tests. The car's Wrangler formula has worn tremendously in today's world.
2020 has been their year, and their team has worked tirelessly to ensure to they create something unique for their customers. Their 2020 model has been full of amazing features. Below are some of the most compelling features for the 2020 Jeep Wrangler.
Removable Panels
The Jeep car is the only vehicle in the market where the ability to remove the doors, windshield and side panels are listed as features. Their open-top convertibles can provide a better fraction of the thrill of driving the Jeep Wrangler with their doors removed. The process of taking off the doors is a surprisingly simple and enjoyable thing to do.