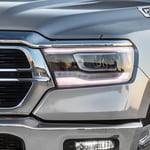 You'll never get lost again. With the Ram 1500, you can forget about writing down directions on a piece of paper or squinting at the tiny map on your phone screen. The Ram 1500 comes fully equipped with one of the largest touch screen consoles in the industry, so you can view a full-color map no matter where you are.
If you get lost, simply pull up the map and see where you end up. The Ram 1500's full-color map offers clear routes and marked street signs. The pinch-and-zoom technology allows you to explore the area and figure out the best route to your location. Plus, you can get directions and follow the route with the GPS system.
With the Ram 1500's full-screen map, you can see buildings, stoplights, major highways, and more. If you're interested in this exciting technology, we'd be happy to demonstrate it for you at your nearby Smyrna, DE i.g. Burton of Smyrna Chrysler Dodge Jeep Ram.