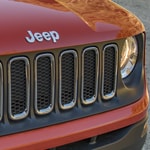 Everyone has their own personal preference when it comes to what they drive, but few could deny the appeal of the 2020 Jeep Renegade. It screams adventure with its front fascia that has grill openings and vents made to look just beautiful and rugged at the same time.
There are towing hooks built into the front grille on some models for when this Jeep needs to be towed along to some great adventure spot. You never want to be without your Jeep, and you never have to be.
Night drivers are pleased to hear that the 2020 Jeep Renegade has LED lights for both the headlamps as well as the taillights. This puts it into another level of safety, but it also adds a nice touch of design when viewed at night. Additionally, there are the classic daytime running lamps for greater visibility and safety out on the open road.