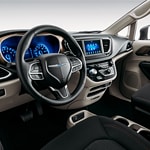 Any dealer shop understands that excellent vehicle priority safety. This is an essential feature not lost in the Chrysler Voyager. The minivan is packed with features that limit thieves. The remote central locking and the standard electronic immobilizer can help prevent vehicle theft.
The vehicle has several features that increase safety when driving. The rear park notifies you of any obstacles that are directly behind or in front. The blind-spot monitoring keeps tabs of the Voyager's blind spots and informs you. The cross-traffic alert and the rear parking assist provide the help you need on the freeway or when parking. Features such as Abs, pre-tensioners, stability and traction control, and curtains aim is geared to reinforce safety. Each of the eight seats has an airbag to minimize injury in case of an accident.
The Chrysler Voyager is a family car; thus, every safety feature is designed to ensure the family is safe when using the vehicle.